InFerno's Bistro Reviews
August 2016
I just wanted to say thank you for such a great dining experience at your restaurant last night. We had friends in from Nebraska and thought we would go to a place we have always enjoyed. Last night did not disappoint. Our guests were still talking about it this morning. The service was excellent, the food was great, music playing on the patio...the atmosphere was so relaxed and welcoming. Thanks so much!!
Ilia M
---
May 2016
"Excellent food, many delicious choices, and desserts to die for. This is a very conveniently located place with excellent service. The seafood is well prepared, the frites are thin and crispy. We will eat there again...."
- BeetleRN (via Trip Advisor)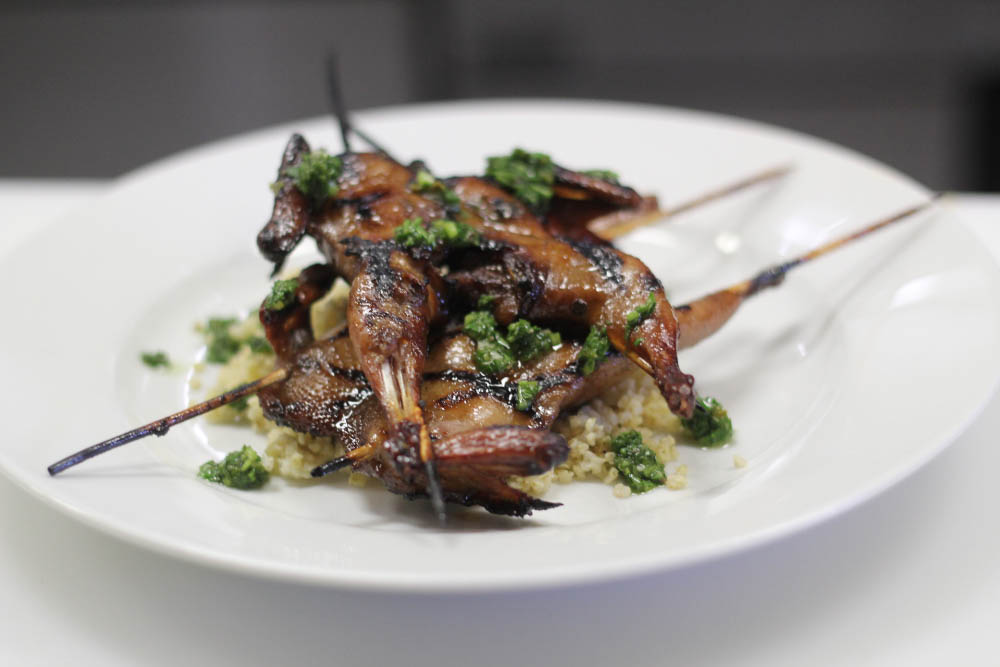 Winnipeg Sun's Discreet Diner
December 3rd, 2009
Popular St. Boniface bistro InFerno's toasts its sixth anniversary Dec. 12 by skipping lunch and cracking open a few bottles of wine for a celebratory soiree.
Good luck elbowing your way into the small French eatery that day, but by all means, keep InFerno's in mind for your own December celebrations. You know, in case there's something special on your calendar this month.
Just be sure to make reservations well in advance. Even on a weekday in November, the DD and Friend were told we could just be squeezed in, and as it turned out, squeezed was the operative word.
Luckily, we weren't planning an intimate affair, since we could easily have reached across to the adjoining table of four and helped ourselves to a glass of their wine. Hey, three bottles in, they would hardly have missed it, and judging by the awkward turn the conversation was taking, I'm guessing at least one of the quartet might even have welcomed the intrusion.
But back to more discreet dining. Having delivered a good, dry and economical house sauvignon blanc and a mild Chilean carmenere, our server calls our attention to an impressively long list of specials, including a couple of appetizers and several entrees - we were tempted by baby back ribs, pickerel and chicken stuffed with carmelized onion, apples and goat cheese - in three price ranges, from about $17 to $35.
The cost options are in step with the general aura here. Casual - no tablecloths - but upscale, with floral garnishes for the appetizers and a stock of trendy rectangular white china.
We decide to start with tender-crisp and deliciously moist crab cakes ($11.95) with mango salsa, salad greens and raspberry-poppy dressing, and a savourful French- Asian fusion of velvety duck con_ t wrapped in crispy pot stickers ($10.95) with a sweet chili sauce. So far, so good.
Inferno's chef Fern Kirouac branched out from his family's locally famous La Vieille Gare (now the renovated Resto Gare) just down the street, and the apple doesn't fall far from the tree - in the kitchen or in the line of professional service.
Our server is attentive, but not obsequious. She sets a comfortable pace and, despite a sudden influx of patrons at our departure time, our cheque appears in a timely fashion. But more importantly, she is as attentive to a couple of teenagers sharing dessert at a nearby table as she is to the foursome racking up the tidy bar tab next door. The DD is impressed, and reminded of an experience at a faux Italian eatery some years ago, when a waiter had the audacity to excuse the abysmal service by pointing out he was too busy fawning over a Blue Bomber at the next table to tend to our needs. Needless to say, we haven't been back, but we can already envision a return to InFerno's during warmer months, when the cozy patio reopens.
In the meantime, we're cozy enough indoors, with a generous dish of penne Inferno ($15.95) to take the chill off a late-fall night. Topped with tender morsels of chicken, spinach, red onions and peppers, the pasta is gently bathed in a chili-cream sauce - not spicy, but delivering a nice heat.
Arctic char ($19.95), stuffed with decadent, silky lobster gruyere, is rich and filling, served with a creamy double baked potato, broccoli and seasonal sweet pureed butternut squash cradled in a red cabbage leaf.
Since you can't miss the large dessert case immediately on entering the bistro - and since two lonely slices of lemon hazelnut torte caught the DD's eye - room has been saved for dessert.
The torte is surprisingly heavy, topped with thick hazelnut cream and set in a substantial crust, but it is a perfect, smooth blend of sweet and tart - so flavourful, it's easy to pass up a (second) bite of the Friend's surprisingly light chocolate cappuccino cream cheesecake.
It's also easy to see why InFerno's is so popular. Great food, great service, an extensive wine list and an egalitarian ambiance and menu to suit any budget or appetite - a salmon fillet or grilled chicken breast will set you back only $7, you can lunch on duck confit, barbecued chicken or a steak sandwich for $11 - $13 or less, or go for broke with one of those high end specials.
We may book earlier next time, in hopes of enjoying more elbow room, but when space is tight, consider the air of bonhomie an added bonus.
Frommers
2007
InFerno's Bistro is a popular and bustling restaurant - with lots of patio seating - in the heart of St. Boniface. While the menu preserves the hallmarks of classic French and French-Canadian bistro cooking - three preparations of mussels and frites, onion soup grantinee, and a creamy veal grandmère fricassee - it's the more contemporary dishes that truly stand out. Stylized but not precious, an appetizer such as chicken pot stickers with creamy sweet-chile sauce and a salad robed in mango-chutney dressing is an explosion of flavors and textures, as is salmon ceviche with thin slices of white onion and lemon. The house specialty, braised lamb shank with maple syrup and balsamic-vinegar reduction, is another great combo of flavors. However, it's the extensive list of seasonal specials that should guide your choice of main courses. For food of this quality, the prices are very reasonable.
WHERE Magazine
2005 - Reviewed in Jan/Feb '05 Issue of WHERE
There are few new restaurants capable of causing a true sensation in this city, the dining scene being as competitive as it is. But InFerno's Bistro did just that. Within six months of its December 2003 opening reservations were nearly impossible to secure. Word of mouth was so positive that it seemed that everyone who was anyone was making the trip to this St. Boniface eatery. They were coming because Chef Fern Kirouac, of La Vieille Gare fame, had nailed the next big thing, with his beautifully presented plates served in a casual French bistro atmosphere, all at amazingly moderate prices.
This past summer a second-floor dining room opened, doubling seating capacity, and taking some of the pressure off. It is also less noisy than the main floor, where sound echoes thanks to bare hardwood floors and the animated francophone clientele. Here earth tones and pretty bistro prints accent tables that are placed closely together, creating a warm, European feel. For added character, an old fur vault cleverly holds the resident wine collection. Servers are attentive, well-informed and bilingual, adding to the French-Canadian charm.
The menu is concise and focuses mostly on French and Mediterranean bistro-style dishes which are generally smaller bites, although big on flavour.
The grilled salmon panini combines graciously tender salmon steak with artichokes, shiitake mushrooms, and tomato. Vinaigrette is spilled over the combination to unite the ingredients with a fresh, tangy flavour. Croque monsieur is an edible sanctuary for rosemary-scented ham, dijon and nutty-sweet emmenthal cheese. In the green apple and blue cheese salad the sourness of crisp green apples blends with the headiness of cheese and sweetness of candied walnuts.
Four varieties of moules et frites (mussels and fries) are available. The fries are of the shoestring variety and the mussels, cupped in their indigo shells, are plentiful, and excellent for a light lunch or appetizer. The flamande version is especially decadent with its cream base infused with white wine and wands of leeks.
The traditional French side of the menu is most apparent in the appetizer selection. Kirouac's choice of frog's legs is a tribute to his classic French cooking days. They are sautéed using the holy trinity of white wine, garlic and lemon, resulting in a classy rendition of this traditional dish. The soft and flaky tarte niçoise is a skilful blend of salty and acidic tastes. Plump anchovies and tangy olives are softened by creamy goat cheese and tomato inside the tart.
Highly recommended is the poulet à la façon du chef. It is stuffed with lingonberries, also known as the European cranberry, and cambozola, a blend of camembert and gorgonzola. Veau grand-mere is another good choice, prepared simply but elegantly, with cream, mushrooms and white wine.
Although the mains are strong, some of the sides are an apparent afterthought. Carrot-parsnip purée is smooth and well spiced, but carrots and broccoli served on a recent visit were unremarkable, and a twice-baked potato was too dry.
The briefness of the menu is offset by an extensive list of daily specials, which really lets the kitchen spread its wings. If it is featured, definitely order the lamb shank, glazed generously with a very complementary maple balsamic reduction. This hulking roast, braised for four hours, is tender to the point of being luscious: a fork is the only utensil you'll need. Also watch for the arctic char, stuffed with mascarpone cheese, which is delicate and finely prepared.
Desserts are a thing of beauty at InFerno's, so pace accordingly. The pies, especially the tarte au sucre, are sweet and voluptuous, and the molten chocolate cake is worth a visit on its own.
10best.com
2005
Chef Fern Kirouac, who got his start at his father's La Vieille Gare, opened this charming little bistro in 2004. It was an instant hit and dubbed one of the year's best new restaurants by Where magazine. Traditional French fare, often with a touch of Mediterranean flair, is the draw: four varieties of moules et frites, frog's legs, veau grand-mère (veal and mushrooms in white wine cream sauce), poulet à la façon du chef (chicken stuffed with lingonberries and cambozola). The menu is brief, but there are always numerous daily specials.
Ciao Magazine
2004
Like the hottest new New York restaurant, you'll definitely need a reservation at InFerno's Bistro, the latest "it" restaurant in St. Boniface. This 46-seat room has been buzzing with chatty customers since it opened in December. And for good reason. An earthy colour scheme with copper accents, white tablecloths, hardwood floors, and a former fur vault filled with wine create an elegant atmosphere. Chef Fern Kirouac's menu includes French-Canadian and Mediterranean influenced items. Listed are four verities of moules et frites, pasta, paninis, and entrees like chicken stuffed with ligonberries and cambenzola, and veau grandmere with leeks and braised fennel. Construction is underway for a second storey dining room. Rooftop and main floor patios are planned for the summer.